February Calendar of Activities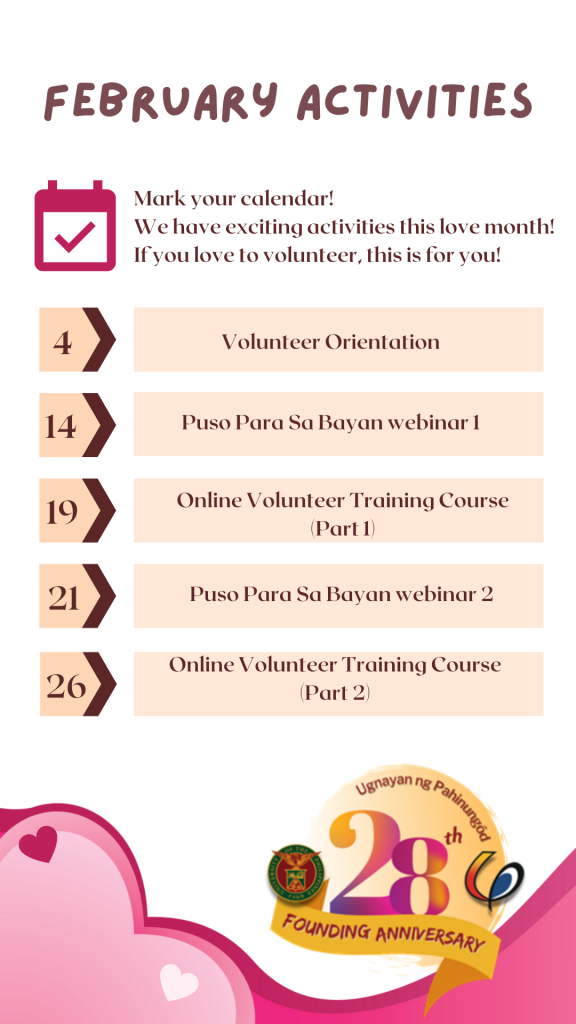 Hello February! Hello love month!
𝗕𝗲 𝗼𝘂𝗿 𝗱𝗮𝘁𝗲 𝗮𝘀 𝘄𝗲 𝗰𝗲𝗹𝗲𝗯𝗿𝗮𝘁𝗲 𝗼𝘂𝗿 𝗹𝗼𝘃𝗲 𝗳𝗼𝗿 𝘃𝗼𝗹𝘂𝗻𝘁𝗲𝗲𝗿𝗶𝘀𝗺 as we commemorate our 𝟮𝟴𝘁𝗵 𝗳𝗼𝘂𝗻𝗱𝗶𝗻𝗴 𝗮𝗻𝗻𝗶𝘃𝗲𝗿𝘀𝗮𝗿𝘆! See below exciting activities we have prepared for you!
𝐅𝐞𝐛𝐫𝐮𝐚𝐫𝐲 𝟒: 𝐕𝐨𝐥𝐮𝐧𝐭𝐞𝐞𝐫 𝐎𝐫𝐢𝐞𝐧𝐭𝐚𝐭𝐢𝐨𝐧 – learn about how to be a Pahinungod volunteer (𝑻𝒐 𝒓𝒆𝒈𝒊𝒔𝒕𝒆𝒓: https://bit.ly/UNPVolOrie)
𝐅𝐞𝐛𝐫𝐮𝐚𝐫𝐲 𝟏𝟒: "𝐏𝐚𝐡𝐢𝐧𝐮𝐧𝐠𝐨́𝐝: 𝐏𝐮𝐬𝐨 𝐏𝐚𝐫𝐚 𝐒𝐚 𝐁𝐚𝐲𝐚𝐧" 𝐖𝐞𝐛𝐢𝐧𝐚𝐫 𝐏𝐚𝐫𝐭 𝟏 – will highlight initiatives of other Pahinungod CUs about their community development programs, projects and activities vis-a-vis volunteerism and the experiences of their partner organizations and communities. (𝑻𝒐 𝒓𝒆𝒈𝒊𝒔𝒕𝒆𝒓: https://bit.ly/pusoparasabayan2022)
𝐅𝐞𝐛. 𝟐𝟏: "𝐏𝐚𝐡𝐢𝐧𝐮𝐧𝐠𝐨́𝐝: 𝐏𝐮𝐬𝐨 𝐏𝐚𝐫𝐚 𝐒𝐚 𝐁𝐚𝐲𝐚𝐧" 𝐖𝐞𝐛𝐢𝐧𝐚𝐫 𝐏𝐚𝐫𝐭 𝟐 – will foreground the experiences of individual students and alumni during their stay in Pahinungod and any volunteering efforts that they themselves lead and/or part of. It will also feature a panel discussion with the past UPLB Pahinungod directors focusing on their past programs, initiatives and accomplishments and a walk through of the evolution of UPLB Pahinungod through time and the office's ways forward. (𝑻𝒐 𝒓𝒆𝒈𝒊𝒔𝒕𝒆𝒓: https://tinyurl.com/PahinungodPusoParaSaBayan)
𝐅𝐞𝐛. 𝟏𝟗 𝐚𝐧𝐝 𝟐𝟔: 𝐎𝐧𝐥𝐢𝐧𝐞 𝐕𝐨𝐥𝐮𝐧𝐭𝐞𝐞𝐫 𝐓𝐫𝐚𝐢𝐧𝐢𝐧𝐠 𝐂𝐨𝐮𝐫𝐬𝐞 – will tackle several key concepts about volunteering, organizing a training, and project management.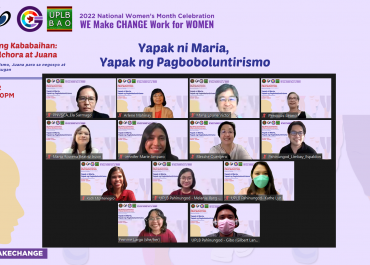 "As we celebrate Women's Month, it is important that we do not only commend and celebrate individual success stories of…