Pahinungod conducts Psychosocial First Aid training for Laguna University faculty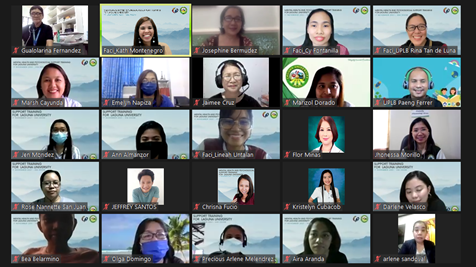 Twenty-eight faculty members from Laguna University completed Pahinungod's online Mental Health and Psychosocial Support (MHPSS) training on November 17, 2021. The half-day session aims to equip participants with the skills needed to conduct psychosocial first aid within their communities during times of crisis. Upon completion, the participants became part of UPLB Ugnayan ng Pahinungod's pool of trained volunteers on standby for outreach opportunities.
The program began with an overview of mental health led by Assistant Professor Raphael M. Ferrer from the Department of Human and Family Development Studies under the College of Human Ecology. Asst. Professor Ferrer discussed the different aspects of mental health or lusog-isip and highlighted community support as the most widely needed form of care when building resilience. Drawing from field experiences, he explained how Psychosocial First Aid (PFA) can be done by any volunteer.
"Ang PFA ay very natural sa ating mga Pilipino kasi mayroon na tayong konsepto ng pakikipagkapwa at pakikiramay," Ferrer said. "[Sa Psychosocial First Aid] …Hindi natin sila pinipilit magsalita o magshare at di natin sila sinisisi. Kasabay nito, tinitingnan rin natin kung ano yung mga maaari nilang kailangan. We try to help them address their basic needs such as pagkain o tubig, and usually nagdadala kami ng mga donation such as damit o kumot."
Aside from providing access to basic needs, psychological first aid also includes connecting people to information, services, and other social support systems, and protecting them from further harm. These skills are essential during volunteer activities in disaster-stricken areas but are also applicable in other contexts such as in classrooms and at home.
"Yung PFA ay kaya siyang gawin kahit di ka eksperto," the resource speaker added. "Kahit volunteers tayo pwede natin gawin. Hindi siya counseling dahil hindi natin goal na ma-solve yung problema nila o magkaroon sila ng closure… So usually pakikinig ito sa mga kwento nila nang hindi sila pinipressure."
While crisis intervention and PFA both aim to deescalate acute stress, crisis intervention is usually done in highly critical situations and is handled by formally trained experts. An important aspect of PFA is the ability to connect the distressed individual to a network of other organizations that are prepared to handle their needs.
During the session, participants were randomly assigned to a group representing a specific population and synthesized their lessons through a roleplaying activity. Each group created its own scenario that required PFA intervention and demonstrated how they would address the concern using the approaches taught by the resource speaker.
This year, the volunteer corps has been increasing its mental health-related initiatives to empower students, faculty, and partner organizations to combat the mental health crisis.
To know more about UPLB Ugnayan ng Pahinungod's activities send us a message at https://www.facebook.com/UplbUgnayanNgPahinungod. (By Malissa Agnes W. Strauch)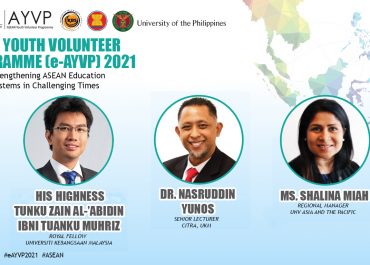 The University of the Philippines, through the Ugnayan ng Pahinungód UP System, and the Universiti Kebangsaan Malaysia (The National University…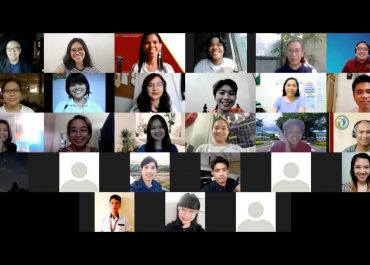 As part of its tradition of recognizing the selfless deeds of UPLB volunteers, the Ugnayan ng Pahinungod UPLB held its…