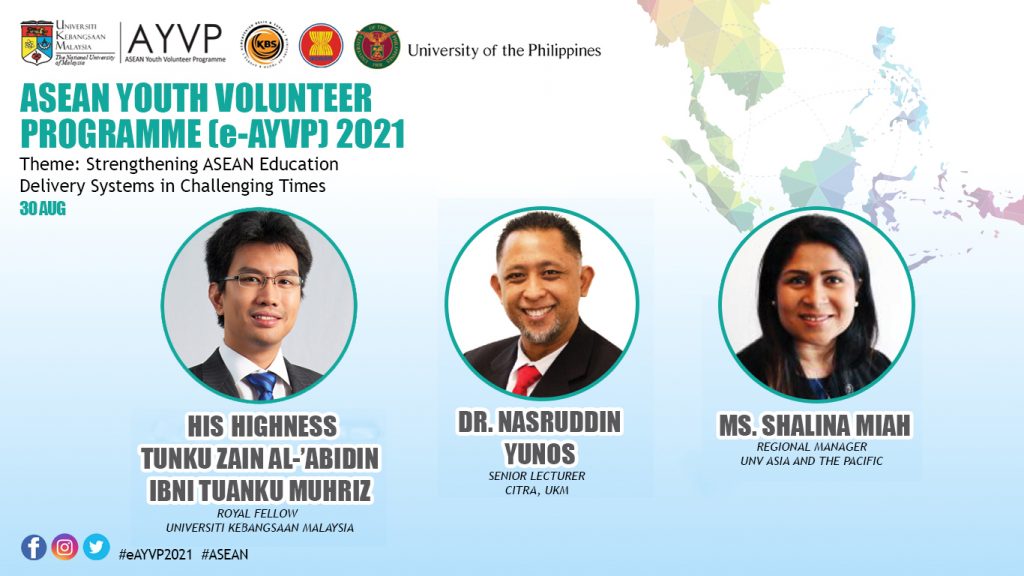 The University of the Philippines, through the Ugnayan ng Pahinungód UP System, and the Universiti Kebangsaan Malaysia (The National University of Malaysia) through the University Community Transformation Centre (UCTC), under the auspices of the Ministry of Youth and Sports of Malaysia, in partnership with ASEAN Secretariat, hosted this year's eASEAN Youth Volunteer Programme (AYVP) Philippines. The AYVP is usually consisted of a four-week training, field assignments related to the year's thematic area, and a project proposal making and pitching by the end of the programme. Due to the pandemic, for its ninth run, this AYVP was held virtually from August 30 to September 17, 2021, with the theme "Strengthening ASEAN Education Delivery Systems in Challenging Times".
The e-AYVP Philippines 2021 featured seven (7) webinars on ASEAN topics, six (6) workshops on project management, and 22 masterclasses coming from experts and practitioners all over the world. More than 200 registered participants from the ASEAN+3 member states met almost daily for three weeks over Zoom for knowledge sharing and discussions. The event also utilized the UP Open University (UPOU)'s MODeL Learning Management System as the conference platform to access announcements, information about the sessions, assignment and related readings, session recordings, and other features.
In his opening remarks, UP President Danilo L. Concepcion (PDLC) shows how the youth are the most productive, flexible and creative members of every nation's population. With a hope that the participants have the potential to become future leaders of ASEAN, PDLC highlighted the importance of programmes like e-AYVP in developing capable leaders and volunteers among the youth. Furthermore, the Honourable Prof. Dato' Ts. Dr. Mohd Ekhwan Hj. Toriman, Vice-Chancellor of Universiti Kebangsaan Malaysia, reaffirmed that e-AYVP 2021 could develop ASEAN Young Education Leaders who are ASEAN-conscious and equipped with skills and competencies in youth leadership and education, through the spirit of volunteerism and community engagement.
e-AYVP 2021 further strengthened the bond of the ASEAN+3 youth volunteers, adhering to ASEAN goal of creating one vision, one identity, one community.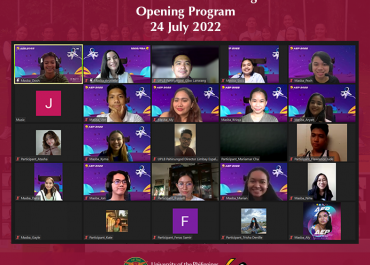 Staying true to its commitment of upholding the social betterment of Masbate through rendering socio-civic and extension services to their…